We have been recognized by Hella as their manufacturer rep of the year
November 15, 2018
Posted by:

Philippe Emond

Category:

Hella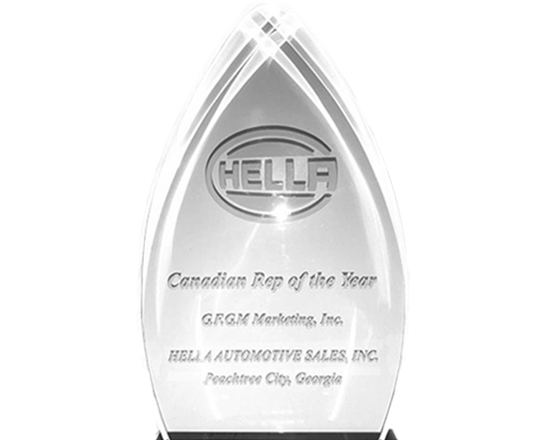 This years was another success for GFGM Marketing and our partners. Longtime partner and manufacturer representative, GFGM Marketing, was awarded the HELLA Canadian Rep of the Year award for 2018. Philippe Emond president of GFGM Marketing accepted the award on behalf of the agency. GFGM Marketing is covering the province of Quebec, Canada and has been representing HELLA for over 20 years.
These honors are not only rewarding, they confirm the level of service GFGM Marketing aim to provide to our customers.
Hella is an internationally operating German automotive part supplier with headquarters in Lippstadt, North Rhine-Westphalia. The company develops and manufactures lighting, electronic components, and systems for the automotive industry. It also has one of the largest trade organizations for automotive parts, accessories, diagnosis, and services within Europe.
According to Wikipedia, Hella is one of the top 50 global automotive suppliers, and one of the 100 largest industrial companies in Germany. Worldwide, it employs about 40,000 people in more than 100 locations in over 35 countries. More than 5,800 engineers and technicians work in research and development within the company.
The main businesses of Hella can be divided into three segments: Automotive, Aftermarket, and Special Applications. The Automotive Segment consists of the development, production, and marketing of lighting and electronic components and systems both for vehicle manufacturers and for other suppliers. In the Aftermarket Segment the company develops, produces and markets products for the independent aftermarket and for garages. The Special Applications Segment serves target groups ranging from the producers of construction machinery through boat builders right up to municipalities and energy suppliers by providing them with innovative lighting and electronic products.
Since February 2022, HELLA and Faurecia have been operating under the umbrella brand of FORVIA. Together they form the seventh largest automotive supplier worldwide. FORVIA focuses on technology, innovation and customer satisfaction – and concentrates on high-growth areas that are geared towards the megatrends of the automotive industry.