Traction
The very first Traction store opened in 1963 in Montreal. Throughout the years, Traction has grown to occupy the Number One position in the Canadian aftermarket of truck and trailer parts. With a coast to coast network of over 100 stores, Traction offers a complete range of truck and trailer parts to a highly diversified clientele, from owner-operators to large national fleets. Our customer base touches numerous sectors and industries, including transportation of goods, construction, government agencies, passenger transportation, waste management, courier services, forestry, mining, and oil.
Served by three distribution centres with a combined total of 275,000 square feet, Traction offers over 500,000 parts for trucks and trailers from over 1,000 of the most widely recognized suppliers in the market.
Traction carry all the industry's most recognized brands in addition to our private label brand, HD Plus. Their employees are heavy vehicle specialists with a focus on customer service. At Traction, the expertise means we are much more than a network of parts stores–we are business partners for our customers.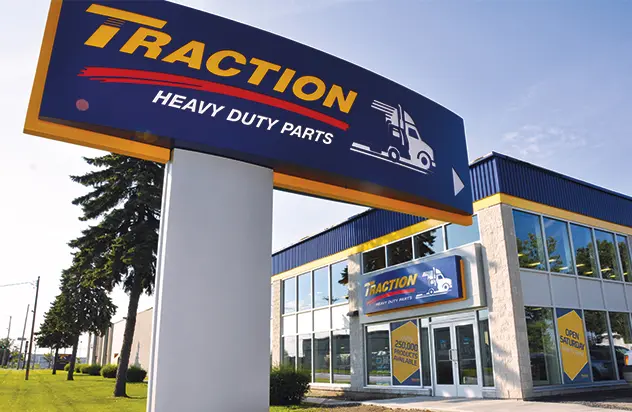 Since its inception, Traction has been part of the United Auto Parts family. UAP was founded in 1926, and is now an affiliate of the publicly traded multinational, Genuine Parts Company (GPC). With over 50 years of experience and the support of a strong, global organization, Traction's expertise goes unmatched.
They serve the end-users of our parts, from owner-operators with a single truck to national fleets with several thousand trucks and trailers. Traction has service contracts with 50 of the country's largest fleets.Our customers work in a diverse variety of industries, including transportation of goods, public services, construction, mining, forestry, and passenger transportation.